How to use Dial-Up and VPN password recovery Tool – solution for Microsoft Windows Remote Access Connection Password Recovery.
Dial-Up VPN Password Recovery Tool
How to recover lost password for Remote Access Connection such as Dial-Up or VPN. How to use free tool to recover lost or forgotten passwords for VPN or Dial-Up connections.

MDB Password Recovery Tool for Access displays lost or forgotten password used in Access database locking. The program reads the password and allows user to copy it to computer memory. Recovered password displayed in the result field of the program. It also can test the resulted password on a selected MDB file to ensure that it can be opened with recovered password.
To recover a password, you should select password protected MS Access MDB file and choose the corresponding action for executing. You can select the "Get the password" and "Remove the password" actions. Also you should press the "Execute" button. Program displays the recovery process information in a log window.
Dial-Up Password Recovery Tool handles the passwords and settings used for dailup and vpn connections. The program reads the password and allows user to view it or copy it to computers memory. Recovered password displayed in the details field of the program. It also can displays connection details.
To recover a password, you should select apropriate connection from the list. You can copy retrieved password to the Windows clipboard for future use or save it to the text file.
After recovery you can copy password to the computers memory (with Copy button) and then paste it (by pressing Ctrl+V) right to the MS Access password prompt and then open your database. In just two steps it can recover your lost or forgotten password to the MS Access database MDB file.
Unregistered users of MDB Unlock for Access can not view whole password.
Trial/demo version shows only first two characters of the recovered password. Program registration will allow you to remove all restrictions of a trial version.
How to recover the RAS password with Dial-Up VPN Password Recovery Tool
It recover all available passwords just after program startup. It displayed the device type, device name, IP or host name or phone number, user name, domain and password for the selected connection.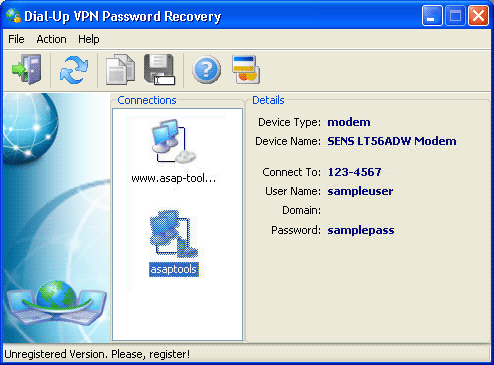 1. Select the connection to retrieve password
Available connections are displayed in Connections list. The user should click on the one of connections to get the details. If a connection was added after Dial-Up Password Recovery startup, you should press the refresh button (F5) to make the connections list is up to date. Each connection can be recovered separately. The program can read connection settings of Microsoft Windows versions 95, 98, ME, NT, 2000, XP, 2003 (Windows Vista and higher is not supported).
2. Retrieve the VPN or Dialup password

Just select the connection from appropriate list. Details area will display the connection setting. Also the connection password will be decrypted and displayed as regular text. You can press the Copy button to store recovered password to the computers memory. The short combination for password copying is Ctrl+C.
3. Password recovery for IRDA connection
You can use this utility to recover also IRDA password. But it is only available when IRDA connection is present and active.
Now you known how to retrieve your forgotten or lost Dialup or VPN connection password as soon as possible with our Free Dial-Up Password recovery tool.