How to use Safe File Shredder and Mover – solution for safe wiping of privacy data.
How to erase files and folders and make sure that nobody can recover them for ever?  How to move files to another storage device and erase all traces?
Safe File Shredding and Moving utility
Safe File Shredder removes all traces and erasing the files content. It is a complete solution to wipe useless files and keep your computer privacy. With this tool you can irretrievably delete private data, such as temporary internet files, swap files, temporary files, etc., and free up your disk space. The utility wipes files and folders using either fast or secure erase algorithms. All files and folders may be combined in wipe list and then erased. Supports both the FAT and NTFS file systems. Safe File Shredder wipes all files to ensure their total unrecoverable elimination and nobody can restore (un-delete) your files and get access to the private information which you wish to be destroyed for ever.
How to make the file erasing with Safe File Shredder
Settings
You can specify the amount of shredding passes before you start. The shredding with a minimum value of passes is enough for safe erasing, but in order to be absolutely sure that nobody is able to recover the shredded information you can increase it's value up to 5 passes. This option is recommended for the computers with the scheduled writing, data write cashing.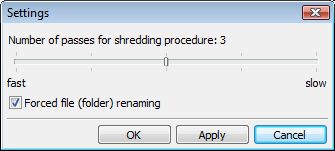 You can enable the forced file and folder renaming option also. Some of file shredding tools allows you to erase the file body but the file name still can be recovered and can tell enough about the file content. In some cases you wish the file or folder name to be unrecoverable. We are recommend you to keep this option always enabled.
Shredding modes
Three modes are available:
Safe File Shredding – let you safe delete a numerous amount of files without the ability to undelete them. The program can work with long files up to 7Gb of length.
Safe Folder Shredding – the complex action to erase whole folder and it's subfolders recursively.
Safe File Move – you can move the selected files to the safe location in this mode. For sample: from your work computer to your private USB Storage Device (Flash Drive, SD Card etc.). As the alternative, you can copy amount of files using standard MS Windows functions, then make the files shredding action in 'Safe File Shredding' mode.
In order to activate a desired mode, you should select it from the actions list.

All shredding modes are also available for activating in a program buttons menu.
* To read the detailed mode instructions, please select the corresponding section below:

Safe Files Shredding Mode


Safe Folders Shredding Mode


Safe Files Move Mode
Register the Safe File Shredder software
Trial software has limited functionality. Why, you can read in a software FAQ section. If you want to become a registered user, you should purchase it. After purchasing you will get the personal serial number. You will be able to enter it in the appropriate program field to unlock it.