Have you ever faced the problem of forgotten passwords? The unexpected "enter password" window prompts a secret characters combination that is required to connect to the server. You have stored the password in your FTP client software, but it is can not be viewed because it is hidden by asterisks (*****) What is even worse is that if you don't remember this combination. Advanced FTP Password Recovery tool is intended to help you with that problem. Using this tool you always recover the stored FTP password.
When you login to the FTP server, your FTP client has to submit login information (including the password) to the server. Advanced FTP Password Recovery tool emulates the FTP server and intercept the login and password information and display it.
Recovered password is displayed in program list and also in FTP client session. It is a useful and universal password recovery tool for FTP accounts. Advanced FTP password recovery can recover passwords for all FTP clients including SmartFTP, FTP Voyager, Total Commander, CuteFTP, AceFTP, CoffeeCup FTP, Core FTP, SecureFX, WS_FTP, FileZilla, FlashFXP, Core FTP, FTP Explorer, FTPRush, Website Publisher, Bulletproof FTP, LeechFTP, WSFTTP, FTP Navigator (old name for FTP Commander) FTP Express and others. To recover passwords for those software, you can use one of FTP client, that holds the saved password, and connect to Advanced FTP Password Recovery, which will then reveal the password it receives from the FTP client program. The program can only recover the passwords that are stored by FTP client.
Advanced FTP Password Recovery, the key features
All FTP clients support
Running under Windows 95, 98, Me, 2000, XP, 2003, Vista
Shows passwords hidden under asterisks under FTP client session
Stores recovered passwords in a list where you can specify the host name of FTP server
Full FTP server emulation on specified port
Multiple login / password recovery support
Saves reports to a file
Universal FTP Password Recovery tool was tested and known as
WS FTP password decrypter, CuteFTP password recovery tool, FileZilla FTP password cracker, Bulletproof FTP password interceptor, FTP Explorer password decoder, Core FTP password sniffer, FTP Voyager password ripper, FTP Commander account hacker, CoffeeCup FTP password finder, it was tested with TurboFTP, FFFTP, FTPExplorer, FreeGate, UltraFXP, FTPRush, SecureFX, BulletProof, FTP Express, FAR Manager, Windows Commander, Total Commander, Website Publisher FTP clients and can be used to recover passwords for other clients software.
Advanced FTP Password Recovery screenshots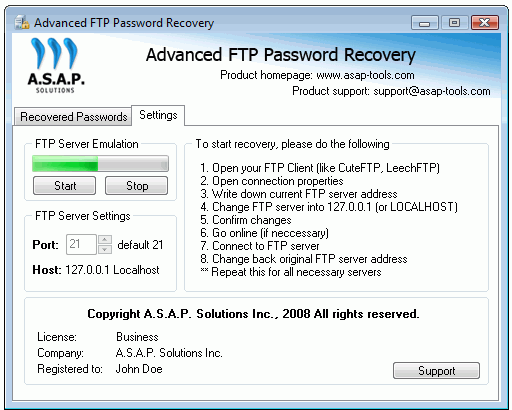 Settings tab contains the main settings, start/stop controls and startup instructions.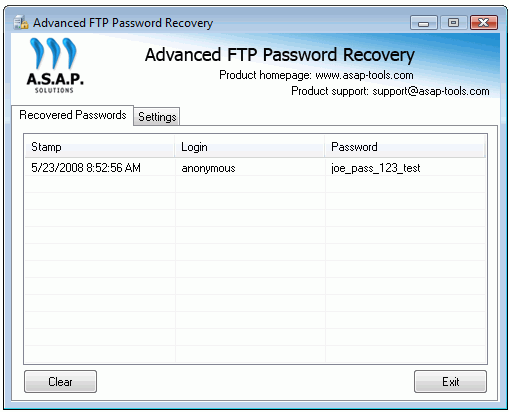 Recovered Passwords tab – displaying recovered Login and Password for FTP connection. There is also the time stamp available which you can fill with another information.