Dial-Up and VPN Password Recovery tool
This tool was designed for
Dialup, VPN
(
Remote Access
)
password recovery.
It can help you to
recover lost or forgotten
passwords and your RAS settings
.


Dial-Up VPN Password Recovery tool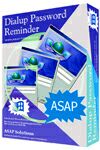 When you lost or forget your saved windows dial up (RAS) password, this tool will help you to recover it. You can use registered version of Dial-Up VPN Password Recovery for without limits for you own passwords recovery. Dial-Up Password Recovery displays the RAS password hidden by asterisks *** . If you saved your dial up or VPN (RAS) password long time ago and forgot it, then Dialup Password Recovery is what you need. It help you to recover your passwords as soon as possible.

Here are some key features of Dial-Up VPN Password Recovery:

- Find out all dial-up and vpn passwords stored on Windows System
(Win-9x, Windows ME, Windows NT, Windows 2000 and Windows XP)
- Copy recovered passwords to the clipboard for later purposes
- Save recovered settings and password to the text file
- Recover dial up and vpn settings such as:
. network device type and device name
. phone number, IP address or host name
. User name, domain and password
- Easy to use - the recovery is simple, just start the tool and select the connection.



Important note :
This is not a hacking or cracking tool. We do not offer software cracks, hacking tools or other illegal software. We offer password recovery and other helping tools
and services instead.
Dial-Up VPN Password recovery program
doesn't remove password or change it,
RAS Password Recovery Tool
also doesn't recover foreign user passwords. it just a
Key to remind you forgotten password
for Remote Access Connections (dial-up, vpn).
Additional information for Dial-Up VPN Password Recovery Tool:
If you have any comments, suggestions or ideas on improving our software, please let us know. Your feedback is important for us in order to get an idea of how to make our Software better for you. We really appreciate your comments and feedbacks.
Q. How do I recover my saved passwords ? I am just download your tool. What can I do ?
A. Just run the Dial-Up VPN Password Recovery tool and select the appropriate connection, saved password will be automatically shown. You can use the refresh button to make sure that all connections are displayed.

Q. How can I save recovered passwords ?
A. With copy button, you can store the password to the Windows clipboard. You can paste it to the notepad or such text editor and save it as text file for further use. Also you can save RAS settings and recovered passwords with SAVE button.

Q. How to restore a dialup password for another user?
A. Dial-Up VPN Password Recovery is not hacking tool. We can't allow you to see the personal passwords for another user without permission. But if you have a permissions and you can log on by the user name which is given to you by another user and recover the passwords.

User Testimonials
"Thank you ! It is helpful tool. I will recommend your site to my friends."
Severine Olgart - France

Wow !!! You are amazing. It is easy to use tool help me to get my lost passwords"
Tim Ross - Canada