Password Recovery Tool for Outlook Express Accounts
(Backup tools for OE accounts and passwords)

At long use the set of e-mail accounts you can easily forget or lost the password to one or even to several mail boxes. In this situation you will be compelled to register a new account at the mail provider, but it s not comprehensible in some cases. In this case to you will need to notify all friends and colleagues that the mail box were changed, but even in this case, the weight of emails will be lost on an old account.



With the ASAP Outlook Express Accounts Password Recovery tool
you will relieve yourselves of such problems.


ASAP Outlook Express Accounts Password Recovery Tool: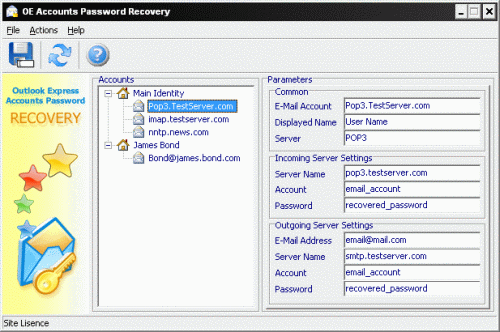 ASAP OE Accounts
Password Recovery
is a tool for recovering
forgotten or lost passwords
to
Outlook Express mail and news accounts and Identity Password
. The program recovers and visualizes the settings of mail and news accounts of Outlook Express versions 5, 5.5, 6. (The Outlook Express version 4 is not compatible!) The program recovers passwords and displays information for all set of
identities
for the current user. The
password recovery tool
has an additional feature for
saving the recovered information
about Outlook Express accounts configuration to a text file. So, it is also the great tool to
Backup
your
email accounts
settings.
It can easily
restore
the
lost
or
forgotten passwords
of accounts saved in
Outlook Express
, and also to
save the restored passwords
together with options such as:
E-mail Account, Display Name, Incoming (POP3) Server Name, Incoming User Name, Incoming Server Password, Outgoing (SMTP) Server Name, Outgoing User Name, Outgoing Server Password, Identity name and password
...
This is the best way to
recover all Outlook Express
(POP3, SMTP account passwords and news server passwords). ASAP
OE Accounts Password Recovery
is able to restore and save passwords for
email accounts
of all available Identities in
Outlook Express
. The program is simple in use and does not demand advanced computer user skills. It is enough to start the program and saved
Outlook Express passwords
will be restored. You will need to choose
email account
to see the
password
. Further it can be copied in a clipboard and used on your discretion. Also you can
save account settings and passwords
in a text file. We recommend you to store this file on personal devices, Such as CD, Memory Stick or Flash Drive. Do not save a file with passwords in shared folders.
* Unregistered version shows only partial password, some letters are hidden by asterisks.

How to use ASAP Outlook Express Accounts Password Recovery Tool:

You should perform two easy steps to recover your lost password.

1. Run Mail Password Recovery Tool, the recovery process will be started automatically
2. Choose the Email account at the left side. Recovered password and account information will be displayed at the right side.

Now you known how to retrieve your forgotten or lost email passwords as soon as possible with our OE Password recovery tool (). It is really simple. Whether not so?

Important notices:

ASAP OE Accounts Password Recovery does NOT recover passwords of Web-based email accounts, such as Hotmail, Yahoo, etc.). It can recover only OE passwords which are stored (previously saved) at the Outlook Express settings.

Note: the unregistered program recovers only the first two characters for each account password. You can buy the full version of the program on-line at purchase page to disable all functional restrictions. The program is NOT compatible with Windows 95 ! It was designed only for Windows XP but it can work also on other Windows versions, please download and try it in restricted mode
To make sure that it can work on your OS version.

Important note : This is not a hacking or cracking tool. We do not offer software cracks, hacking tools or other illegal software. We offer password recovery and other helping tools and services instead. OE Password recovery program doesn't remove password or change it, it is also doesn't recover another user passwords, only the current user. You may use the program if you legally own the accounts the program will process. You may also use the program if you have permission from the legal account owner. Recovered data and passwords may not be used illegally. Any illegal use of this software for recovering data and passwords may lead to civil or criminal prosecution.

If you have any comments, suggestions or ideas on improving our software, please let us know. Your feedback is important for us in order to get an idea of how to make our Software better for you. We really appreciate your comments and feedbacks. If you have any problem or question, feature request or inquiries, do not hesitate to our support team. Just send us email, and we'll get back to you as soon as possible.

Frequently Asked Questions
Q. I am just purchased your software for Outlook Express password recovering but can't recover passwords. What can I do ?
A. Please make sure that you trying to recover passwords which were saved in OE account settings. Only saved passwords can be recovered.

Q. It doesn't extract account settings and passwords from my The-Bat email client. What now ?
A. This software was developed only for Microsoft Outlook Express Accounts Password recovery. Please try our software before you purchase it, it is the part of End User Agreement.

Q. Why your demo version of software is so limited ?
A. Password recovery tools are unlike regular software, it is very special, a typical password recovery tool may be needed only to restore that much needed document, and nothing more. You use it only once and if we will release a regular time-limited fully-functional trial version then we will lose a lot of our customers. Software development takes a lot of efforts from our specialists, so we simply wouldn't be able to stay in business if we gave our software away for free. We have to offer you software with limited functions and capabilities so you can have a chance to evaluate them, and we have a chance to get paid for the full version and keep bringing you better products in the future. Your understanding is much appreciated !

Q. What should i do ? Passwords are empty in demo mode...
A. Passwords can not be retrieved in some cases, if demo version can not display the password, please, do not purchase it. Our software can recover only saved passwords of Outlook Express. It is designed to recover only Outlook Express settings and saved passwords, it can't recover MS Office Outlook and other email software passwords / settings.

Q. What differences between license types ?
A. With the Personal License, you can use the program for non-commercial purposes in non-business, non commercial environment. To use the program in a corporate, government or business environment, you should purchase a Business License. Advanced (Site) license has no limitation on use.

Q. My credit card were charged, but I didn't hear about you. Where is my license code ?
A. If you've made a payment, but haven't got a payment confirmation from registrar company, please check your order status, it can be unprocessed for some reasons. If you've made a payment, but haven't got a confirmation letter with your serial number (registration code) within a reasonable amount of time, please notify us about that! We're very sorry for any inconvenience caused by those delays. Sometimes the reason is your ISP provider have spam blocked our emails. Do not forget to provide us a order details for we can find your registration info and re-send it to you.

NOT FILLED YET. YOU CAN BE THE FIRST.